LED strip lights currently have been one of the most popular light sources, as they are low-profile, easy to install, energy-efficient, durable and extremely versatile.
They're typically used for cabinet lighting, cove lighting, architecture lighting, mirror lighting, pool lighting, grow lighting, decorative lighting and other linear lighting areas required.
Table of Contents
1. What is A LED Strip Light
2. Features of LED Strip Light
3. Application for LED Strip Light
4. LED Strip Light Manufacturing Process
4.1 SMD Packaging & LED Spectral Division
4.2 QC-1
4.3 Solder Paste Printing
4.4 Components Placement (SMT)
4.5 Reflow Soldering
4.6 QC-2
4.7 Welding
4.8 Aging & Waterproofing
4.9 QC-3
4.10 Tape Pasting & Packaging
4.11 QC-4
5. What Factors Affect the Quality of LED Strip Lights?
5.1 PCB Copper Wire (Printed Circuit Board)
5.2 LED Phosphor
5.3 Component Placement
5.4 Component Quality
6. Conclusion
What is A LED Strip Light
LED strip light, is also known as LED tape and ribbon light. It is composed of SMD LEDs, PCB board and resistors, usually come with a 3M adhesive backing.
It is widely used to create linear lighting effects, such as accent lighting, backlighting, task lighting, decorative lighting and other linear lighting requirements.
Features of LED Strip Light
● Flexible
● Long connection (5m-50m)
● Abundant colors
● Energy efficient
● Easy installation
● Cuttable
● Fully dimmable
● Customizable
Application for LED Strip Light
LED Strip Lights are super versatile and can be used in multiple applications.
Indoor decoration – create unique designs that will be compelling in your home or for business. Applicable for kitchens, bathrooms, bedrooms, hotels, etc. The possibilities are infinite when it comes to indoor lighting ornament with a LED Strip Light!
Outdoor lighting – whether you're looking for outdoor decorative lighting or security lighting, LED Strip Light is the best option. LED tape lights are waterproof, durable, corrosive and will last for years without any maintenance required.
LED Strip Light Manufacturing Process
Step 1. SMD Packaging & LED Spectral Division
The first step for a LED strip light in the manufacturing process is the production of SMD LEDs. They are small, surface-mounted devices that emit light when voltage is applied to them.
The SMD LEDs are mounted onto an aluminum substrate and encased in a transparent epoxy resin to protect them from damage during transportation.
We also do light color matching to maintain light consistency. LED binning and selection is a vital process of LED spectral division. We use the same color BIN for each manufacturing run of LEDs within their color temperatures.
This means that when you order a 4000K natural white LED strip light today and order the same product next year, there will be no perceivable differences to the human eye. We bin to 3 MacAdams and have strict in-house batch testing to make sure that your lights arrive perfectly.
Step 2. QC-1
After producing the LED reels, through a baking process to dehumidify LED chips, then the reels are placed in vacuum bags. Each reel also goes through a manual microscopic check to ensure the replacement of proper wafers.
Step 3. Solder Paste Printing
Get the PCB ready to paste the LED components on it. This is completed with a process called Solder Paste Stenciling.
Solder paste – is a greyish substance that contains tiny balls of metals called solders. The balls are made predominantly of steel with traces of silver and copper. This paste is applied to the PCB at the places where the components are to be mounted.
Step 4. Components Placement (SMT)
The SMDs are then placed on the respective pads on each side of the PCBs, and processing with automated machines known as pick-and-place machines.
Shine imported Japanese SMT machines are totally automatic and can place hundreds of components per minute. It significantly improves the production efficiency of LED strip lights and warrants product quality & precision.
Step 5. Reflow Soldering
The next step involves reflow soldering all components together by applying heat until they melt into each other and form solid connections between PCB and LED.
This heating process includes a series of heaters that heat the PCB gradually until it reaches a temperature of 250℃ (480℉).
Step 6. QC-2
We test each strip to see if the brightness of led strips, color, voltage and other specifications are just as ordered.
Step 7. Welding
The LED lights come out of the reflow as 50cm strips. They are then welded together by connecting one strip with another.
Step 8. Aging & Waterproofing
The welded LED strips processed called aging to check their performance. Light up the LED strips for 8-12 hours continuously to see if they'll work seamlessly.
This test helps us check LED strips quality efficiently and troubleshoot any problems before packaging.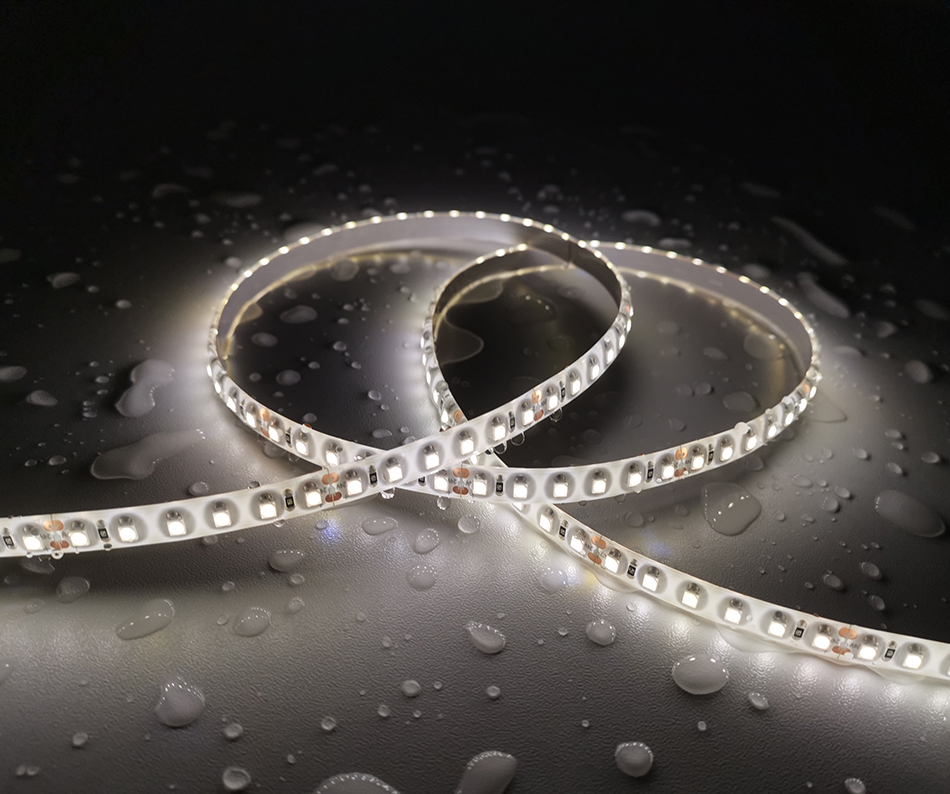 Waterproofing process for LED light strips is to make it adapt to wet, water or outdoor environment. This process requires covering the LED strip with silicon glue or silicon tube.
At Shine, we use both a machine and manual inspection to have the LED strips evenly silicon glue coated. Shine 8mm/10mm/12mm LED strip lights can do waterproofing, which allows you to decorate your outdoor lighting projects without concerns.
Step 9. QC-3
Surface inspection done on each LED light strip is to ensure its quality and performance.
Step 10. Tape Pasting & Packaging
We will paste 3M adhesive tape to the backs of PCB after LED strips pass all the quality checks. Shine use original 300LSE 3M tape that adheres to all surfaces easily.
The last step is packing the LED light strips in an anti-static bag & carton box.
Step 11. QC-4
Our final quality test is a random inspection on LED strip lights that are ready for packaging. It helps us maintain high quality standards.
Besides, Shine Lighting is able to assist customer's designated third-party QC inspection in our workshop after our internal FQC.
What Factors Affect the Quality of LED Strip Lights?
1) PCB Copper Wire (Printed Circuit Board)
Copper wires in the PCB board are to ensure a seamless flow of current to all the components over it. Copper wire quality can affect the performance of LED strip lights. Shine Lighting PCB copper wires adopted are 100% pure copper with double layer thickness.
If the copper wire is too thin, the current is hard to pass through it and your LED strips may fail to work or suffer from serious voltage drop.
2) LED Phosphor
Phosphor is used in LEDs to increase light's fluorescence. It's essential in producing white light that is bright and pure. A poor quality phosphor can make your LED lights look gloomy and unpure.
It is important to note that phosphor will degrade with time and use. While good quality phosphor remains brighter and longer durability.
3) Component Placement
It's vital that the electronic components placed on PCB are in correct places. If not, the LED strip will stop working. So choose the right devices (like pick & place machine) is also important.
Combining different sized LEDs on a single strip light will end up reducing LED strip's efficiency and accelerating the phosphor's degeneration.
4) Component Quality
Good quality of all components – LEDs, resistors and PCBs used for manufacturing the led strip lights matters a lot. They not only perform better but also last longer.
Poor quality LEDs will result in color consistency and invalidity sooner. Faulty resistors & PCBs affect the current flow, and may cause the LED strips to heat up.
Conclusion
Good quality LED strip light supplier can meet a one-stop solution per your lighting needs. To do a deep research before making a purchase decision is always crucial.
If you'd like to know more about our LED strips, neon flex strips, aluminum extrusions or have any other queries, feel free to comment or send us an email. Our aim is to offer premium LED lighting solutions that last years!